Mai Chau Ecolodge

The window to Mai Chau
MAI CHAU TOURS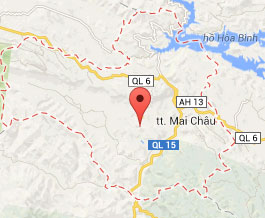 Expat Escape: Ecotourism and Hanoi
Posted date: 4/18/2018 10:41:34 AM
"Epic scenery such that only the voice of Sir David Attenborough could ever do justice."
With its unique charm of hustling streets and the omnipresent murmur of distant karaoke, Hanoi is increasingly becoming the city of choice for open-minded international professionals. The city has grown to become a rich cultural melting potand, with attractions ranging from ancient pagodas to the beloved Bia Hois, Hanoi offers something to satisfy any discerning traveller. Nonetheless, amongst the madness of the streets, one can forget some of the things you miss in this metropolis.
Don't be fooled by the concrete jungle that is Hanoi – Vietnam is in fact one of the most naturally diverse countries in the world.Owing to a profound respect from indigenous cultures who rely on the land, many natural environments in Vietnam remain wild, supportinga unique abundance of animal and plant species found nowhere else. It then comes as no surprise that the everyday resident of Hanoi is only ever a short drive away from some of the most incredible wildlife on earth.
Cr:Johan Nieuwerth
Where to Find It
Drop Southwest of Vietnam's capital and you'll find one such wildlife haven in the valleyof Mai Chau. Just a three-hour drive from the hustle of Hanoi, Mai Chau is an unsung natural treasure, hemmed in by mountains against a backdrop of dense forest and tropical skies. This exclusive destinationis only just opening-up to tourists and, thanks to its convenient location, it is the ultimate weekend break from Hanoi.From the mountainous foothills and winding rivers, even the views on the journey make epic scenerysuch that only the voice of Sir David Attenborough could ever do justice.
Another of Vietnam's most striking features is its multiethnicity – and Mai Chau is a prime example. Mai Chau exhibits seven ethnic minority groups each with its own language, lifestyle and cultural heritage. The most common of these – the White Thai ethnic community – plays an influential part inthe cultural fabric of the district ranging from architecture to music. Each ethnic community is an account ofa unique interrelationship between man and the natural world, however, much like the natural world, these delicate cultures are in need of preservation and support to maintain their balance and wellbeing. This is why responsible tourism is so important.
Responsible tourism is revolutionary in that it minimises the negative socio-cultural and environmental impact that is so closely bound with commercial tourism. With the deep-rootedness of globalisation reaching into every aspect of daily life, both the diversity of nature and the heritage of culture hang in the balance. It can, however, seem daunting to find the 'right' responsible tourism experience – but it need not be expensive, nor compromise your experience. The hard work has been done for you, as Mai Chau Ecolodgeis conveniently located to provide theluxury, ethical and authentic travel experience that the twenty-first-century has been waiting for.
"Regarding transfer service, you can choose shuttle bus service or private car service pick-ups from Hanoi, access to this remote part of the countryside couldn't be easier."
Mai Chau Ecolodge
Mai Chau Ecolodge invites you to experience one of the wonders of Vietnam in a responsible fashion that is closer to nature and local communities than ever before. Through the use of renewable energies, traditional architecture and employing locals from ethnic minorities, this lodge effortlessly blends into its natural and cultural landscape. Mai Chau Ecolodge has been a pioneer in the responsible tourism sector, providing the perfect tonic between luxury and authentic experience without commercialovercrowding. Through conserving the natural environment and supporting local communities in this way, Mai Chau aims to have a positive knock-on effect for future generations of travellers.
With transfer service, you can choose shuttle bus service or private car service pick-ups from Hanoi, access to this remote part of the countryside couldn't be easier. And whether it's transport or accommodation, Mai Chau Ecolodge has you covered.
Designed in the style of traditional White Thai houses, there is a variety of stilt bungalows available to meet any of your requirements. From bamboo to stone, each bungalow is constructed from locally sourced materials to blend into the environment, and everything is acquired from local providers to benefit local industries. Available rooms include Superior, Junior Deluxe, Deluxe, Suite and President – each meticulously furnished to provide a fusion of luxury and authenticity. The pictures speak for themselves:
Eco Activities / What to do there
With activities ranging from sports to spa treatments and traditional cultural practices, visitors to Mai Chau Ecolodge are spoilt for choice. Guided hiking tours are available, providing an informative journey through surrounding valleys, or alternatively, bikes are free to rent for those who desire a more independent means of eco-exploration.
If it's ~ r e l a x a t i o n ~ that you're after, then you need look no further than the quality spa service on offer. Unwind with a full-body massage or treat yourself to a manicure. The Mai Chau spa experience has been a massive hit, providing optimum relaxation with the popular option of a cheeky poolside cocktail in-between treatments.
For those who are more concerned with the culture of local tribes, there is an array of activities to satisfy even the most curious of travellers. Craft classes are free to observe and you have the choice to partake in traditional practices ranging from brocade weaving and even farming. Dances, traditional to the white Thai community, are performed every evening and cooking classes are available for those who desire the truest taste of tribal life.
Situated at the peak of the highest point in the resort, every Mai Chau meal is served with an awesome panoramic view overlooking the surrounding wilderness of mountain and jungle.
From the seasonal ingredients to the impressive views, the Mai Chau dining experience is as popular as other activity on offer at the resort. Each meal on the menu is prepared and served with great care, with an array of foods including traditional Vietnamese dishes, traditional White Thai cuisine, in addition, to several western options. All produce used in the Mai Chau kitchen is organic and locally sourced, and with a recent in-house ban of disposable cutlery and straws, you'd be hard pushed to find a more ethically delicious dinner.
Take Home Points
With summer fast-approaching, and the cities beginning to sweat, a 48-hour retreat is an ultimate remedy. Take a welcome break to the countryside, breathe in the fresh air, soak in the sun, and join the ecotourism movement. Whether you're after a romantic getaway, a natural retreat, trekking, artistic inspiration or a business get-together, Mai Chau Ecolodge has you covered. This is respectful tourism that Vietnam deserves, and in doing so, it manages to deliver the most rewarding experience for the traveller. See you there.
By: Elliot Arthur - Mai Chau Ecolodge
Share This