Mai Chau Ecolodge

The window to Mai Chau
MAI CHAU TOURS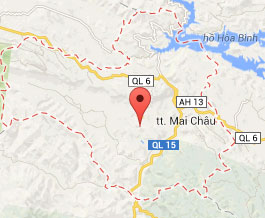 Lac Village in Mai Chau Valley
Posted date: 6/27/2017 5:22:48 PM
Located in Mai Chau District, about 135km from Hanoi, Mai Chau is a little valley surrounded by green mountains and dotted with lakes, paddy fields, rivers and houses on stilts of the Thai people.
Tourists can take a car following National Highway No6 from Hanoi to Hoa Binh City and then continue going about 60km to the first intersection behind the mountain range, then turn left onto Vang Street and go about 5km further to Lac Village in Mai Chau Valley.From above Mai Chau looks like a huge green stadium with green mountain slopes and terraces. The main road snakes it's away amid rice paddies, lakes and houses leading to the Ma River further in the background.
Upstream and downstream Ma River, a cruise offers spectacular sceneries of a different world that is like no others: bamboo forests, secret valleys with crisscrossing pipes bringing drinking water to different households and all encircled by evergreen mountains. Mai Chau valley is a very good place for people who like to have a real homestay with local people and do some activities such as walking from village to villages or take a bike trip along the village road through the wet rice fields or simply sitting on the house-on-stilts to enjoy the peaceful and quiet atmosphere of the village. The majority of the population in Mai Chau Valley is the White Thai. Lac and Pom Coong villages are typical of Thai minority communities. The houses are built on stilts, 1.5m above the ground, having bamboo floors and roofs made from Goi or May leaves.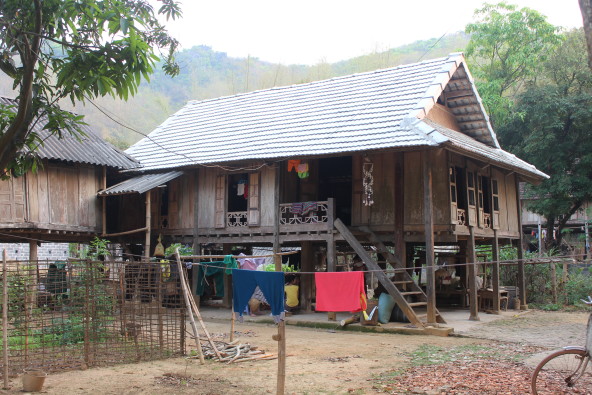 The area under the traditional house is usually reserved for livestock. But nowadays this area at some houses has been arranged into a souvenir shop flaunting items such as shawls, dresses, bags, purses, brocade cloths and multicolor cloth balls skillfully made by Thai. In some houses, the visitors can witness the local women diligently working at a loom, weaving colorful brocade fabric. Also, a visit to a local hamlet is not complete without trying the famous Can wine (wine drunk out of a jar through pipes) that is made from sticky rice, Hinh ho leaf, Meo leaf and ginger that fascinates any tourist. An overnight stay at one of the stilt houses in Mai Chau will be enlivened by folk dances and songs that are accompanied by gong music. When night falls in the Lac Village, the tourists are encouraged to stay at homes of local Thai families and enjoy fascinating folk dances and songs of Thai accompanied by Gong music.
If you are going to Mai Chau and visit Lac Village, please contact Mai Chau Ecolodge for more information for tour and price
Share This