Mai Chau Ecolodge

The window to Mai Chau
MAI CHAU TOURS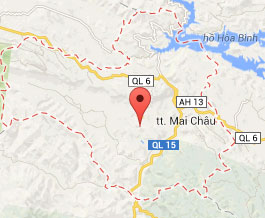 Mai Chau Ecolodge – Sustainability and Luxury in Vietnam
Posted date: 5/19/2018 11:29:35 AM
This was the Vietnam I had dreamed about seeing – only just a little bit better. Mai Chau Valley is in the Northern providence of Vietnam, about a three-hour van ride from where we were staying in Hanoi. Most of the people who traveled with us in the van were doing a day trip to the area, cycling around the rice paddies and shopping for locally produced handicrafts. We opted instead to stay overnight at the
Mai Chau Ecolodge
and get a well deserved break from the chaos of Hanoi
. We discovered our mistake even as we were just approaching the property – we were only going to be staying for one night. Clearly, that was not going to be enough.
This concern was confirmed as we got a better look around.
Mai Chau Ecolodge
The lodge prides itself on using locally sourced, sustainable products in constructing the property. Everything is landscaped using native plants and the lodge itself practically melts into its surroundings.
There are no TVs in the rooms at this property – the idea is enjoy the natural surroundings and unplug. And we proceeded to do just that. (Although, the lodge does provide wifi access, so in truth, we weren't completely unplugged).
We were already feeling relaxed as we made our way to our room, where we were in for a few surprises.

Luxury Meets Sustainability in Northern Vietnam
The view of the rice paddies and surrounding mountains were picture perfect. Being able to watch the farmers in the field harvesting the rice was the Vietnam that we pictured in our minds before traveling here. It felt like we had truly arrived. We were first swept away by the landscape, and then completely blown away by the room. Not sure which I was looking forward to the most, a quiet sleep in the huge bed, a dip in the private plunge pool overlooking the rice field, rinsing off in the outdoor shower, or possibly bathing in the enormous wooden tub. Decisions, decisions…
The best part of this little mini vacation, however, was yet to come. The next day, after we had enjoyed some Vietnamese cuisine in Mai Chau's Restaurant and watched a local dance demonstration in the lodge, we were able to spend some time exploring local daily life in the village.
The lodge actually provides bikes so that you can ride to do a self (or guided) tour of the villages. Here the locals actually waved to us as we rode past them and their happily grazing water buffalo in the fields. And we saw lots of locally produced handicrafts (such as intricately hand-woven scarves and purses). Our added treat was being invited to spend the afternoon with a farmer and his wife and cook lunch together in their home.
That part of our story is coming soon....
Source: https://www.venturists.net/mai-chau-valley-mai-chau-ecolodge/
Share This