Mai Chau Ecolodge

The window to Mai Chau
MAI CHAU TOURS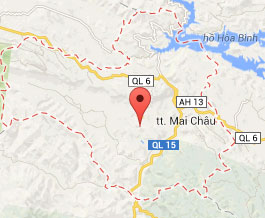 Protect the earth avoiding plastic - Mai Chau Ecolodge
Posted date: 6/15/2018 4:12:27 PM
The Plastic Revolution has gathered momentum recently with social media movements such as #passsonplastic and fashion brands are increasingly releasing anti-plastic campaigns. More and more, celebrities are spotted with reusable water bottles and coffee cups, and the public has followed suit. More noticeably, cafes and bars in the UK are no longer giving out plastic straws - a big transition from the default four that were ignorantly served with every drink and carelessly thrown away, minutes later. Accepting a straw in the UK has become synonymous with pouring oil straight into the ocean; it causes quite the stir. Now the people want cardboard straws, glass straws, or no straw.
Whilst on my travels some 6000 miles from home,I've found myself at an Ecolodge, nestled in the tropical mountains of Vietnam, where the war on plastic also seems to be in motion! Given the levels of pollution elsewhere in Asia, I've been pleasantly surprised to find cardboard straws galore! And the best news, they were being served in fresh, locally-sourced pineapple juice by the friendliest of staff at Mai Chau Ecolodge. With preservation of the environment at the heart of Mai Chau's ethos, cardboard straws were only a fraction of the ecolodge's efforts to use sustainable materials. Whether they were smaller, culinary details like cardboard straws and reusable chopsticks or features in the rooms such as cardboard encased toiletries, they had gone the extra mile and beyond.
And the green touches didn't stop there. Electricity in the room is only activated with the key card slotted in at the door, to ensure switches aren't left on when you left the room. Genius, right? (Don't lose your key, otherwise you'll be stuck in the dark… Not that this happened to me…) The room is also provided with two large glass bottles of 'eco-water', i.e. not out of a plastic bottle, something that is maddeningly difficult to avoid in Vietnam. And if you're still thirsty, there is a complimentary bottle of rice wine on offer. Once again, not plastic, it's stored in a beautiful ceramic bottle. Every little counts, ay.
Back home, efforts to reduce our environmental footprint are taken for granted. Environmentally sustainable practices have been instilled in us from an early age through education and widespread awareness. In Vietnam, however, the movement is slower. But positive steps in the right direction arehappening for sure, and nowhere is this more evident than at Mai Chau Ecolodge where the pollution is low and the air is clean.
Share This