Mai Chau Ecolodge

The window to Mai Chau
MAI CHAU TOURS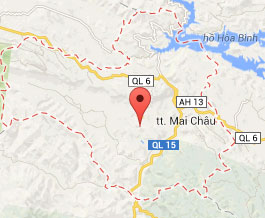 Romantic Dinner Amidst Rice Paddy Fields
Posted date: 7/12/2018 4:02:44 PM
Just a three-hour-drive from Vietnam's capital, Mai Chau is famous for its dramatic landscape, exotic vegetation and the ethnic minority cultures who inhabit the surrounding valley.Of all the experiences offered by Mai Chau Ecolodge, the new 'under-the-star dining experience' is by far the most exclusive and premium service on offer.
Rice agriculture is one of the most fundamental aspects of culture in this part of the world, and this dining experience givesour guests the chance to indulge in local flavors amidst the paddy fields that have given life and meaning to countless generations in the Mai Chau valleys. With nothing but mountains, fine food, and fine wines, this is a unique and special experience to share with a loved one that will last a lifetime. Additionally, all serving staff are of ethnic minorities from local communities. Our staff wear their authentic cultural attire and of course, all employees have been trained to the highest standards of international hospitality service.
With a kitchen of award-winning chefs, Mai Chau eco-restaurant serves a mixture of local ethnic cuisines, traditional Vietnamese dishes, and international favourites. As well as putting a cultural emphasis on the menu, all food served in the Mai Chau restaurant is locally sourced and organic. Through supporting local farmers, providing vegetarian options and avoiding disposable cutlery and straws, Can Tho Ecolodge makes sure that every meal is both ethical and full-flavoured.
The eco-philosophies of this resort make it extra special, allowing customers to luxuriously experience nature and authentic culture and in a manner that has a positive impact on both the natural and cultural environment.
Share This