Mai Chau Ecolodge

The window to Mai Chau
MAI CHAU TOURS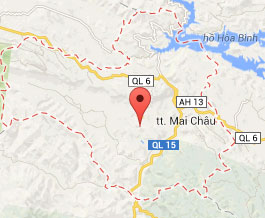 Try Our New Eco Tour Package – Brocade Weaving & Cooking Class in Local Home
Posted date: 8/28/2018 5:26:28 PM
Tucked away in the mountains of Northern Vietnam you'll find Mai Chau Ecolodge set in a mystic valley of topical mountains, flowing rivers, rice paddies and indigenous communities. This region of Vietnam has remained largely unexplored by foreign tourists, however, the spectacular landscape and convenient transfer from Hanoi has resulted in a slow but steady exposure and popularity.
Mai Chau Ecolodge is a national pioneer in responsible tourism, bringing eco-friendly and culturally-sensitive aspects to the centre of its successful and dynamic philosophy. Amongst a variety of activities to keep oneself occupied, the newly offered Eco Tour Package is becoming a popular choice as it is giving guests the chance to intimately experience local cultures first hand, whilst expressing their own creativity.
This exciting eco package gives guests the chance to experience cultures that they wouldn't otherwise encounter and do so in a way that is closer and more considerate than otherwise possible. Visit a home in the local White Thai community to practice the age-old art of brocade weaving. Brocade weaving is a cultural treasure of this region and even today this textile technique is used to create everything from clothes to bedsheets.
Learn about unique techniques, embroidery styles and other traditions that come hand-in-hand with this important textile culture. Additional classes are available in silk weaving and natural dying for those who have a particularly keen interest in traditional artisan textiles. Food cooking classes are also available, because who doesn't love food?
Share This