Mai Chau Ecolodge

The window to Mai Chau
MAI CHAU TOURS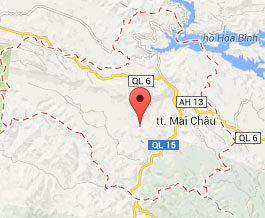 Stay in a "garden home"
Live among nature
Blend into local life
Travel off the beaten path
Travel responsibly
PU LUONG NATURE RESERVE TREKKING (FULL DAY)
HIGHLIGHTS

Beautiful landscape with terraces, traditional houses and water mills on stilt
Hiking cross dense forests with a variety of tropical plants
Unspoiled ethnic villages without mass tourism.

DETAILED PROGRAM Day 01: (L)

07.00: Having breakfast at Orchid Restaurant
08.30: Get on car transferring to Pù Luông natural reserve (in Thanh Hóa province) which is 1,45hrs to 2 hrs driving away from Mai Chau Ecolodge.
10.30: Arrive Đôn village and then start the off road trekking tour from Đôn village and passing some tribal villages (Ươi village, Lặn village…). We can have an overview of Ưoi village from the road on the top side. After 1 hour following small muddy trails, getting through dense forest and tracking along stream to reach Lặn village, you will catch plenty of rural beautiful scenery of local life, people doing farm-work. The rustic beauty here will amaze you definitely.
11.30: From Lặn village we will go by car to Nủa village (only 30 minutes transferring)
12.00: Arrive Nủa village and stop at one of the local house-hold , then having lunch at this local house - A really traditional and fantastic lunch with lots of cuisines such as domestic chicken, bamboo roots, grilled pork paste…. Take time to get knowledge on their culture and life. And you will be amazed by the house owners' friendliness
13.00: Take a rest before starting to trekk from Nủa to Hiêu village.
15.00: Arrive Pho Doan to join the car back to Ecolodge (take the different way back to catch different seeing of amazing giant bamboo water wheels)
17.00: End of program.